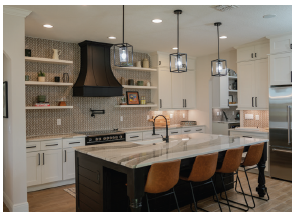 Are you dreaming of a kitchen remodel that's not only stunning but also efficient in terms of time and money? In this blog post, we'll explore why Contractor Source is the best choice for your full kitchen remodel needs.
1. Vertical Integration: Streamlined Efficiency
Contractor Source stands out in the remodeling industry due to its vertical integration. This means that all aspects of your kitchen remodel project, from design to installation, are seamlessly coordinated under one roof. This integrated approach translates to significant time savings.
With all the key elements of your kitchen remodel in one place, there's no need to wait for external suppliers or contractors. This results in a smoother workflow, fewer delays, and a quicker completion of your project. Time is money, and Contractor Source ensures you save both.
2. Onsite Countertop Fabrication: Precision and Speed
One of the standout features of Contractor Source is its onsite countertop fabrication facility. This advanced setup allows for the customization and creation of countertops right on the premises, eliminating the need to outsource this critical component of your kitchen remodel.
Onsite countertop fabrication not only ensures precision but also significantly reduces lead times. You won't have to wait weeks for your countertops to be delivered from a separate manufacturer. This saves time and minimizes disruptions to your daily life during the remodeling process.
3. Cost-Effective Solutions
While quality should never be compromised, Contractor Source understands the importance of staying within your budget. By handling every aspect of your kitchen remodel in-house, they can offer competitive pricing without sacrificing the quality of materials or workmanship.
Furthermore, their expertise in project management ensures that there are no unexpected costs or hidden fees. You'll receive a transparent and detailed quote from the start, helping you make informed decisions about your investment. Our good, better, best pricing model includes all the mess- plumbing disconnect and re-connect- everything you DON'T want to deal with yourself.
4. Skilled and Experienced Team
Contractor Source boasts a team of skilled professionals with years of experience in kitchen remodeling. Their designers, craftsmen, and installers work together seamlessly to bring your dream kitchen to life. Their expertise means they can efficiently tackle any unexpected challenges that may arise during your remodel, keeping your project on track.
5. Personalized Design and Consultation
Your kitchen is a reflection of your unique style and needs. Contractor Source understands this and offers personalized design and consultation services to ensure your kitchen remodel aligns perfectly with your vision. They take the time to understand your preferences, lifestyle, and functional requirements, resulting in a design that not only looks amazing but also works efficiently for you.
In conclusion, Contractor Source is the best choice for full kitchen remodels in Orlando, Florida, when it comes to saving time and money. Their vertical integration, onsite countertop fabrication, cost-effective solutions, skilled team, and personalized design services set them apart as a leading player in the industry. With Contractor Source, you can have the kitchen of your dreams without breaking the bank or enduring lengthy delays. Contact us today to embark on your kitchen transformation journey!